DSM-525 Digital Survey Meter
Radiation Detection
For up to two probes / detectors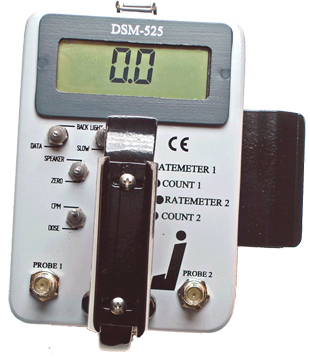 The auto-ranging DSM-525 is a microprocessor scaler / ratemeter with a large digital display and separate inputs for 2 detectors. The DSM-525 has separate adjustable high voltage supplies for each detector. Each detector can have different dose and CPM calibrations. Inputs can have different functions, as well. A threshold that is variable from 0 - 100 % on the input signal eliminates unwanted signals below preset amplitudes. RS-232 data output is provided through 9 pin connector; the cable is easily converted to USB with an adapter. Alarms are provided from 5 - 95% of full scale. Both probes can be connected simultaneously and only require adjusting selector switch for completely automatic operation. The most common combination of probes is the HP-265 pancake G-M probe with the MRSP-1 tissue equivalent scintillation probe. Most combinations of Johnson probes should work. You choose which two probes you want in the ordering process. If you only need one probe, we recommend the DSM-500 Survey Meter. Feel free to contact us if you require any assistance.
Online Ordering US customers only
Specifications
Input Sensitivity: 0.05 Volts
Units: CPM, mR/hr, KCPM, CPS, uR/hr, R/hr, uSv/hr, mSv/hr, Sv/hr
Threshold Variable: from 0-100% of input signal
Display: 4 Digits 19 mm high, LCD with Led Backlight
Display: Back light Push Button ON for 30 seconds Auto Off
Dose Ranges: # 1 Probe 0.0 μR/hr to 9999 R/hr & 0.0 μSv/hr to 999.9 Sv/hr
Dose Ranges: # 2 Probe 0.0 μR/hr to 9999 R/hr & 0.0 μSv/hr to 999.9 Sv/hr
Scaler Ranges: 0-9,999 cps, 0-9999 cpm & 0-9999 Kcpm
Scaler Count Time Ranges: 10 second increments to 2500 seconds
Calibration Controls: Standard 12 turn Potentiometer for each range
Range: Adjustment Auto-ranging
Electrical Linearity: ±5%
Response Time Slow: 20 seconds FS, Fast: 4 Seconds FS
Drift: <5%
Environmental: -20 deg F (-28 deg C)-140 deg F (60 deg C) | 5-95% RH IPX4 Housing
HV: 1 & 2 ( Separate Adjustment) Adjustable 300-1500 VDC | Regulation ±1%
Audio Front panel switch: water & solvent resistant
Battery: six AA batteries, Nominal 200 hours operation
Dimensions: 5.5" (14cm) H X 4" (10cm) W X 7" (18cm) L
Weight: 2.5 lbs (1.1kilo) W/ Batteries
Construction: Heavy Duty Cast Aluminum & Stainless Steel
Alarm: 5-95% of full scale
Data output: 9 Pin Serial RS-232 — Panel manual data switch (optional, but no extra cost)
DSM-525 Digital Survey Meter (for dual probes).............(Order Online) SSL Encrypted, for US orders.
Probes /Detectors Available, Choose two per monitor.
General Purpose Survey
Sodium Iodide Scintillation Detectors for Gamma - MircoR
GLE-1 Probe for Low Energy Gamma
GSP-1 NaI Scintillation, 1 inch x 1 inch
GSP-2 NaI Scintillation probe, 2 inch x 2 inch
Gamma Plastic Scintillation - MicroR

MSRP-1 Plastic Scintillation Probe measures in the microR range
MSRP-2 Plastic Scintillation Probe measures in the microR range
G-M Probes
GP-1010 Beta-Gamma G-M Probe with rotating beta window
GP-200 End-Window G-M Probe
GP-1001 Energy Compensated Cylinder G-M probe (0-200 mR/hr)
GP-1002 Energy Compensated Cylinder G-M (0-2,000 mR/hr)
GP-1003 Energy Compensated Cylinder G-M probe (0-10,000 mR/hr)
Alpha Scintillation Probes
Model ASP-2A 2" x Alpha Scintillation Detector
---