Dual-Probe Survey Meter with Pancake G-M and Scintillation Capacity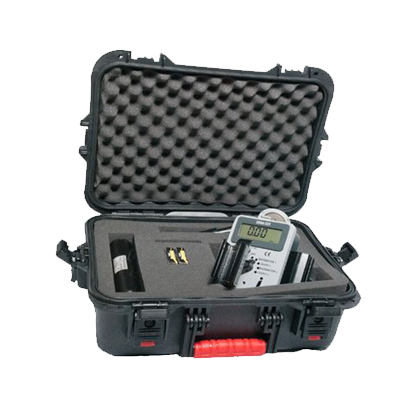 The ERK-525 Emergency Response Kit includes the DSM-525 digital survey meter (dual probes), MRSP-1 Plastic Scintillation Probe, HP-265 pancake G-M probe with check source and holder. The HP-265 probe is used for general purpose alpha, beta, gamma radiation survey. The MRSP-1 probe is a useful MicroR radiation detector for gamma measurement. This emergency response kit is ideal for police, fire and rescue, as well as scientific applications.
Components:
DSM-525 Dual Probe Survey Meter/Scaler
with digital display
The DSM-525 is a microprocessor Scaler/Ratemeter with a large digital display and separate inputs for 2 detectors. The 525 has separate adjustable HV supplies for each detector and each detector can have different DOSE & CPM calibrations. Inputs can have different functions i.e. Ratemeter on one input and Scaler on the other input. A threshold that is variable from 0– 100 % on the input signal eliminates unwanted signals below preset amplitudes. Alarms are provided from 5 - 95% of full scale. Both probes can be connected and only require adjusting selector switch to the probe for completely automatic operation.
DSM-525 Meter Specifications: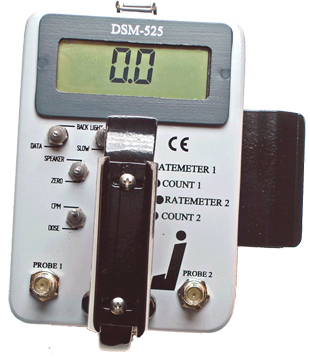 Input Sensitivity: 0.05 Volts
Units: CPM, mR/hr, KCPM, CPS, uR/hr, R/hr, uSv/hr, mSv/hr, Sv/hr
Threshold Variable: from 0-100% of input signal
Display: 4 Digits 19 mm high, LCD with Led Backlight
Display: Back light Push Button ON for 30 seconds Auto Off
Dose Ranges # 1 Probe: 0.0 μR/hr to 9999 R/hr & 0.0 μSv/hr to 999.9 Sv/hr
Dose Ranges # 2 Probe: 0.0 μR/hr to 9999 R/hr & 0.0 μSv/hr to 999.9 Sv/hr
Scaler Ranges: 0-9,999 cps, 0-9999 cpm & 0-9999 Kcpm
Scaler Count Time Ranges: 10 second increments to 2500 seconds
Calibration Controls: Standard 12 turn Potentiometer for each range
Range: Adjustment Auto-ranging
Electrical Linearity: ±5%
Response Time Slow: 20 seconds FS, Fast: 4 Seconds FS
Drift: <5%
Environmental: -20 deg F (-28 deg C)-140 deg F (60 deg C) | 5-95% RH IPX4 Housing
HV: 1 & 2 ( Separate Adjustment) Adjustable 300-1500 VDC | Regulation ±1%
Audio: Front panel switch—water & solvent resistant
Battery: six AA batteries, Nominal 200 hours operation
Dimensions: 5.5" (14cm) H X 4" (10cm) W X 7" (18cm) L
Weight: 2.5 lbs (1.1kilo) W/ Batteries
Construction: Heavy Duty Cast Aluminum & Stainless Steel
Alarm: 5-95% of full scale
Data Output: 9 Pin Serial RS-232 — Panel manual data switch (optional, but no extra cost)

MRSP-1 Plastic Scintillation Probe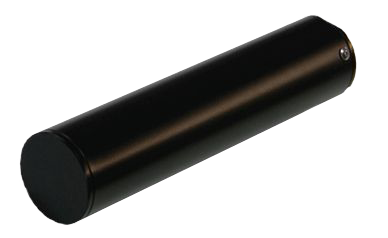 The MRSP-1 plastic scintillation probe our newest microR Detector. The probe is tissue equivalent, and has greater accuracy and sensitivity than a sodium iodide chamber. It is sensitive to gamma radiation at the microR level between 15 keV and 2 MeV. The range is 0-10,000 micro R.
Specifications
General: Micro R Detector
Range: 0 - 5,000 Micro R
Energy Response: Gamma: 40 keV-2MeV
Operating Voltage: 900 vdc
Window Density: 7 mg/cm2
Dead Time: <5 μSec
Sensitive to Cs-137: 60 CPM/μR/hr
Sensitive Area: 1" (2.54cm) X 1" (2.54cm)
Environmental: -20°F (-28° C)— 140°F (60° C) — 5 - 95% RH, IPX4 Housing
Dimensions: 1.875" (4.76cm) Diameter X 6" (15.2cm) Long
Weight: 0.5 Pounds (.23 kilos)
HP-265 G-M Pancake Probe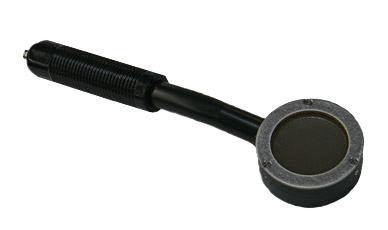 The 2.5 inch pancake G-M probe is ideal for general purpose survey. This G-M probe detects alpha, beta, and gamma radiation. The HP-265 measures 14C, 32P, 35S and 137Cs with notable efficiency.
Specifications
Description: Long life halogen pancake G-M detector with 1.6 mg/cm2 End Window
Efficiency (4pi geometry): Typically 5%-C-14; 22%-Sr-90/Y-90; 19%-Tc-99; 32%-P-32; 15%-Pu-239, Gamma dose to 200 mR/hr (Based on 137Cs calibration)
Operating Voltage: 900 vdc
Window Thickness: 1.6mg/cm2
CPM/mR/hr: (137CS): 2,500
Energy Response: Alpha - 3.5 meV min, Beta - 1 keV min, Gamma - 20 keV-2 meV
Sensitive Area: 15 cm2
Finish: Polyurethane Coated Aluminum
Dimensions: 2.75" diameter. X 11" long
Weight: 16 ounces
Environmental: 20º - 60ºC, 5% - 95% RH non-condensing---IPX4
Construction: Polyurethane coated aluminum probe housing, nylon coated stainless steel probe clip
Check Source and Holder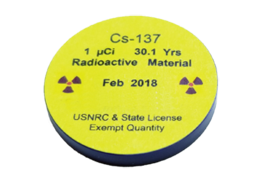 Cs-137 1 uCi, 1 inch check source with holder
Waterproof Hard Case - Plano, Pelican or similar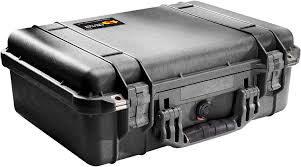 ERK-525 Nuclear Emergency Kit......... Order Online - SSL Encrypted